FIBRE RELATED WORK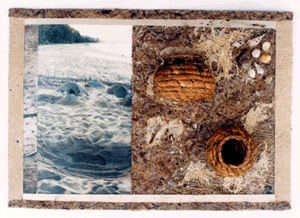 ---
Fibres have always been a passion. My memories and associations with fibre go way back to 'very early' childhood. My mother was always knitting (& still is!) and sewing garments to cloth the family of 7 on the country farm.
Manipulation of the yarn starting with the humble needle and thread, to french knitting, needle knitting, crotcheting and sewing were all learnt well before the age of ten.
Sewing and crotcheting were done with a vengence in my early teens, moving onto learning to spin wool at College in the after hours. Many miles of spinning yarns in sheep country followed along with designer knitting, all done in my spare time.
After the move to tropical North Qld, wool seemed well out of place for body wear. Silkworm farming then took over for a period of 5 years while teaching and raising a family.
In the early 1990's I was introduced to the technique of coiling and stitching of natural fibres amongst other things through fibre workshops with Marion Gaemers, who mainly uses palm/coconut fibres because of her Townsville locality.
I had found my niche and have continued to this day, employing the technique learnt, using the abundant banana fibres, amongst others, now grownmostly in my own home tropical rainforest backyard.