artHIVES, websites for artists, for more than a decade.

artHIVES is an artist's self managed website editing solution that requires
no technological knowledge or special software.

Need a website that you can completely control?

Build your own website within hours, quickly and easily.

artHIVES provides free training,
face-to-face or over the phone and full ongoing support.
Subscription is AUD$27.50 per month or $275 per year.


> Click Here to join.




news


Nicola Moss major commission
| | |
| --- | --- |
| The opening of the new Gold Coast University Hospital is drawing near, it's where you can see 'Coast Life' by Nicola Moss – a major three dimensional sculptural public artwork commissioned for the site. The completed glass application artwork spans six levels in the main entrance and atrium. Referencing ecology and habitats from coast to hinterland, 'Coast Life' draws on silhouettes and interactions between species to create a distinct sense of place. This project was produced in conjunction with UAP, Brisbane. | |
Sue Rowsell opening
Sue Rowsell will be exhibiting some of her latest paintings with Lexie Anderson at their joint exhibition at Percolator Gallery, 134 Latrobe Terrace, Paddington

Recent Works feature still life, interiors and landscape paintings. The exhibition runs from 11-22 September (10am-4pm), with opening night on 13th September 6-8pm.


AJ Taylor shortlisted for Fleurieu
AJ Taylor' s "Melaleucas, Stradbroke Isand" has been shortlisted for the Fleurieu Art Prize 2013. The flinalists exhibition will be held 26 October to 25 November 2013 in venues throughout the McLaren Vale and Fleurieu region.

Redland Art Gallery has acquired "Moreton Bay" from A.J Taylor's recent exhibition "Approaching Stradbroke" at Jan Murphy Gallery. Coincidentally, the study for "Moreton Bay" has been preselected for the Moreton Bay Art Awards 2013 which will be held from 12 October to 27 October 2013 at the Pine Rivers Gallery.
Yvonne Mills-Stanley exhibition
Yvonne Mills-Stanley's up coming exhibition Taking the Temperature will open at FireWorks Gallery, 52a Doggett Street, Newstead, on Friday 13th September, 2013 at 5.30 with an artist talk between Mills-Stanley and Michael Eather. The exhibition will continue until 12th October.

Grass becomes a barometer for seasonal change, such as the aftermath of flood and other weather events. The Following the Big Wet series of paintings speak of such haunting images that nature sometimes provides us. More than simply a representation of grass, these paintings evoke deeper stories and memories - a continuation of an artistic theme and a subject matter which has dominated the artist's paintings for the past 12 years.
Kuranda Sentinels
| | |
| --- | --- |
| Kuranda Arts Cooperative Ltd artists will be exhibiting site-specific artwork in the exhibition Sentinels 16.450.30 S, 145.38.19 E which emphasises our one-to-one relationship with nature. The exhibition was curated by Jill Chism and the subject site is the immediate area of remanent Big Penda trees in the the Barron Falls National Park. Each artist's work is the result of thoughtful observation and the resulting exhibition is a profound meditation on the site. Artists include Mollie Bosworth, Susan Doherty, Terry Eager, Margaret Genever, Henri Hunsinger, Laurel McKenzie, Tijn Meulendiks, Shane Morris, Toni Rogers, and Sasi Victoire. This exhibition will open at Kick Arts Contemporary Arts, Cairns on the 27 September and continue until 2 November. | |
Racheal Lee's Connections
| | |
| --- | --- |
| Rachael Lee invites you to pop upstairs to Tania's Arthouse, 119 Bloomfield Street Cleveland, to see her latest solo show titled Connections which showcases the connection between works from 2007 until now. To coincide with this show Rachael will be creating work in the gallery space every Tuesday 11am - 6pm and selected Sundays 10am - 1pm until the end of September. As artist in residence Rachael will be experimenting with collagraph printmaking techniques which expand on drawings completed on location at the Mt Coot-tha Botanic Gardens. The drawings evolve from fortnightly visits to the gardens and will be presented in a group show at Percolator Gallery, Paddington in October/November 2013. | |
Stephen Baxter recent aquisitions
Stephen Baxter's Trophy for the Winner of Everything was recently acquired by Toowoomba Regional Art Gallery after the work was exhibited in Perennials - Selected USQ Alumni - the first forty years, curated by Bianca Acimovic. It was originally exhibited in Bricolage at Doggett Street Studio in 2009.

Baxter has also had four digital prints acquired by the Griffith University Hospital Collection and three prints acquired by

The Mater Hospital Art Collection

. These series of prints were derived from various oil on canvas paintings.
Joyce Blanche in Tattersall's
Joyce Blanche was recently invited to participate in the Tattersall's Club Sports Art Exhibition 2013.
The exhibition is currently on display at Waterfront Place, 1 Eagle Street, Brisbane. The exhibition is on displayed from 7 am to 6 pm until September 20.
Heinz Riegler at ACMI
publications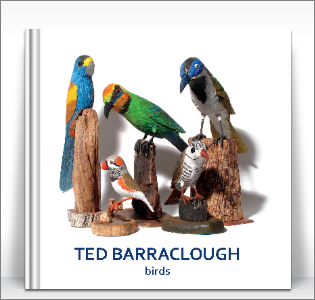 We are pleased to announce artHIVES fourth book publication.

Ted Barraclough birds is a 440 page hard cover book documenting over 250 of Ted's bird sculptures and includes an essay by Glenn Barkley.

For more information visit www.TedBarraclough.com